Dugoni School of Dentistry Volunteers Care for San Francisco's Underserved at Project Homeless Connect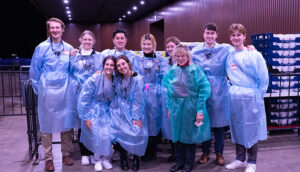 For the first time since the start of the pandemic, students and faculty from University of the Pacific's Arthur A. Dugoni School of Dentistry returned to Bill Graham Civic Auditorium to participate in San Francisco's Project Homeless Connect (PHC), resuming a tradition going back to 2008. The outreach event  — Project Homeless Connect's 77th  such event — was held Wednesday, December 14. Throughout the day, volunteers cared for several dozen homeless individuals who received free dental screenings and basic oral health care.
Launched in 2004, PHC is a city-supported program which has typically taken place at various locations in San Francisco several times each year. It serves San Francisco's homeless by offering free medical and dental care, mental health services, haircuts, employment, legal counseling, food and a variety of other services. PHC partners with city leaders, community-based organizations, and volunteers from across the Bay Area to bring essential and otherwise hard-to-access services to people living on the streets.
The team of ten Dugoni School volunteers included members of the Student Community Outreach for Public Education (SCOPE) organization and two faculty members.
SCOPE is a peer mentor, student-run volunteer community oral health promotion organization at the dental school. The mission is to develop dental professionals committed to best practices in community-based oral health projects for underserved people. SCOPE Officers aim to develop leaders engaged in community oral health.
"The Dugoni School established a partnership with Project Homeless Connect back in 2007 and it is very rewarding to see our students engaging in a unique community oral health program with our long-standing collaborators at the San Francisco Department of Public Health, San Francisco Dental Society and PHC," said Associate Professor Christine Miller, Director of Community Health Programs, who along with student Cooper Giesen, DDS 2024 helped organize the volunteers.
Dental services are among the most requested services by PHC attendees, reflecting the great need for oral health care among people experiencing homelessness.